It's Friday.... time for some links to some great adoption fundraiser sites. I am excited about introducing ya'll to
Leigh.
Leigh and her husband are in the process of adopting a baby girl from the SAME orphanange our little one is in. She has a great fundraiser going. OK, here is how it works.... Each week Leigh posts various items... way cute unique designer items donated by boutiques and other specialty stores. You enter the giveaway by paying (click on the payapl donate link on the side of her blog) just $5 per entry or $25 for 6 entries!These are vey nice items you could score for just $5!
Go here
to see the great clutches and jewelry you can win for this week.... only about 30 hours left for this giveaway. After you pay, leave a comment on the post about which item you are "bidding on". On Sunday, Leigh will "draw" the winner. Even better... if you tweet, blog or link to Leigh on facebook, you get 1 extra entry per "advertising" you do, so you could get up to 4 entries for just $5! My sisters and sister-in laws should be excited...looks like they will be getting great Christmas gifts this year! Yea!!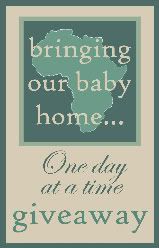 So, click on this button to check out
Leigh's site
and leave a link to your adoption fundraiser, or any great adoption fundraiser you love, below: